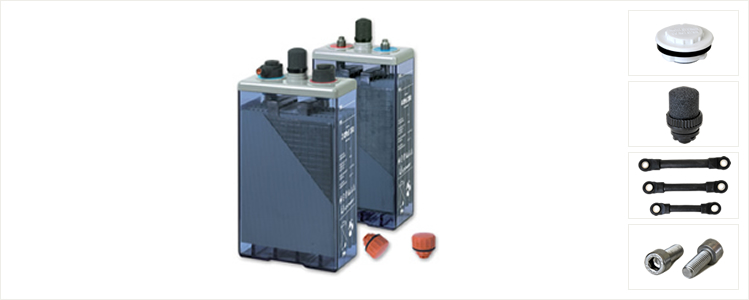 OP
z

S Cells

Design life
20 years at 20°C.
Water refilling
More than 2 years at 20°C.
IIEC 896-1
2300 cycles.
Self discharge
Approx. 2% per month at 20°C.
Operating temperature range
-20°C to 55°C, recommended 10°C to 30°C.
Full conformity with
DIN 40737-1, IIEC 896-11 & EN 50272-2.
Main uses
Solar energy.
Telecommunications.
UPS.
Emergency lighting.
Alarm systems and power
stations monitoring.
Power distribution stations.
Railway stations.
Airports.
etc ...
Specifications
Model
Capacity Ah 1.80
UPC 20ºC
Length
(mm/inch)
Width
(mm/inch)
Height
(mm/inch)
Total Height
(mm/inch)
Weight
IR mΩ
Short Circuit
Current (A)
No.
of Poles
Data Sheet
(PDF)
C10
C100
Wet
(kg)
Dry
(kg)

000

2 OPzS 100
126
189
103 / 4.06
206 / 8.11
355 / 13.98
383 / 15.08
15.5
8.2
1.430
1420
2

010

3 OPzS 150
180
270
103 / 4.06
206 / 8.11
355 / 13.98
383 / 15.08
17.1
10.6
0.950
2120
2

011

4 OPzS 200
215
322.5
103 / 4.06
206 / 8.11
355 / 13.98
383 / 15.08
17.5
12.9
0.740
2720
2

012

5 OPzS 250
270
405
124 / 4.88
206 / 8.11
355 / 13.98
383 / 15.08
21.2
15.5
0.590
3420
2

013

6 OPzS 300
324
486
145 / 5.71
206 / 8.11
355 / 13.98
383 / 15.08
24.9
18.1
0.510
3940
2

014

5 OPzS 350
396
594
124 / 4.88
206 / 8.11
471 / 18.54
499 / 19.65
28.7
21
0.540
3750
2

015

6 OPzS 420
474
711
145 / 5.71
206 / 8.11
471 / 18.54
499 / 19.65
33.7
24.5
0.460
4400
2

016

7 OPzS 490
541
811.5
166 / 6.54
206 / 8.11
471 / 18.54
499 / 19.65
38.7
28
0.410
4950
2

017

5 OPzS 500
609
913.5
145 / 5.71
206 / 8.11
646 / 25.43
674 / 26.54
42.3
29.3
0.510
3950
2

018

6 OPzS 600
672
1008
145 / 5.71
206 / 8.11
646 / 25.43
674 / 26.54
46.3
33.6
0.430
4700
2

019

7 OPzS 700
836
1254
191 / 7.52
210 / 8.27
646 / 25.43
674 / 26.54
59.5
42.5
0.360
5600
4

020

8 OPzS 800
893
1339.5
191 / 7.52
210 / 8.27
646 / 25.43
674 / 26.54
63.5
46.8
0.310
6500
4

021

9 OPzS 900
1028
1542
233 / 9.17
210 / 8.27
646 / 25.43
674 / 26.54
73.4
52.3
0.280
7250
4

022

10 OPzS 1000
1114
1671
233 / 9.17
210 / 8.27
646 / 25.43
674 / 26.54
77.5
56.6
0.250
8100
4

023

12 OPzS 1200
1329
1993.5
275 / 10.83
210 / 8.27
646 / 25.43
674 / 26.54
91.6
66.6
0.220
9250
4

024

11 OPzS 1400
1623
2434.5
275 / 10.83
210 / 8.27
797 / 31.38
825 / 32.48
108.2
76.4
0.230
8800
4

025

12 OPzS 1500
1630
2445
275 / 10.83
210 / 8.27
797 / 31.38
825 / 32.48
113.2
81.7
0.220
9200
4

026

14 OPzS 1750
1978
2967
399 / 15.71
214 / 8.43
772 / 30.39
800 / 31.50
144.8
99.9
0.190
10650
6

027

15 OPzS 1875
2114
3171
399 / 15.71
214 / 8.43
772 / 30.39
800 / 31.50
149.8
105.2
0.170
11900
6

028

16 OPzS 2000
2186
3279
399 / 15.71
214 / 8.43
772 / 30.39
800 / 31.50
154.9
110.5
0.156
12950
6

029

18 OPzS 2250
2689
4033.5
487 / 19.17
212 / 8.35
772 / 30.39
800 / 31.50
182.3
127.5
0.137
14750
8

030

20 OPzS 2500
2926
4389
487 / 19.17
212 / 8.35
772 / 30.39
800 / 31.50
192.5
138.2
0.122
16550
8

031

24 OPzS 3000
3361
5041.5
576 / 22.68
212 / 8.35
772 / 30.39
800 / 31.50
227.7
163
0.105
19250
8