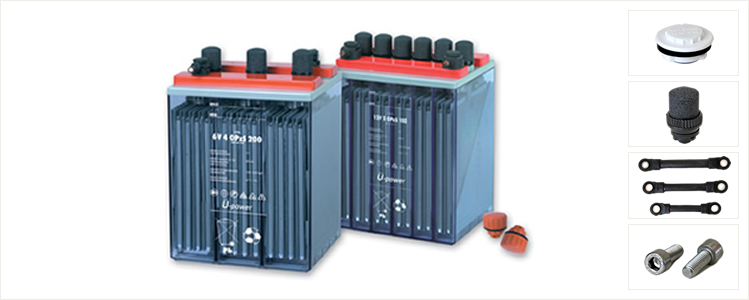 OP
z

S Block

Design life
18 years at 20°C.
Water refilling
More than 2 years at 20°C.
IIEC 896-1
2000 cycles.
Self discharge
Approx. 2,5% per month at 20°C.
Operating temperature range
-20°C to 55°C, recommended 10°C to 30°C.
Full conformity with
DIN 40736-3, IEC 60896-11 & EN 50272-2.
Main uses
Solar energy.
Telecommunications.
UPS.
Emergency lighting.
Alarm systems and power
stations monitoring.
Power distribution stations.
Railway stations.
Airports.
etc ...
Specifications
Model
Capacity Ah 1.80
UPC 20ºC
Length
(mm/inch)
Width
(mm/inch)
Height
(mm/inch)
Total Height
(mm/inch)
Weight
IR mΩ
Short Circuit
Current (A)
No.
of Poles
Data Sheet
(PDF)
C10
C100
Wet
(kg)
Dry
(kg)
6V 3 OPzS 150
177
265.5
233 / 9.17
224 / 8.82
345 / 13.58
394 / 15.51
41.1
30.5
3.18
1900
2
6V 4 OPzS 200
215
322.5
272 / 10.71
205 / 8.07
332 / 13.07
375 / 14.76
46.4
34.1
2.52
2420
2
6V 5 OPzS 250
287
430.5
380 / 14.96
205 / 8.07
332 / 13.07
375 / 14.76
59.8
42
2.13
2860
2
6V 6 OPzS 300
312
468
380 / 14.96
205 / 8.07
332 / 13.07
375 / 14.76
66.8
49.3
1.86
3260
2
12V 1 OPzS 50
63
94.5
272 / 10.71
205 / 8.07
332 / 13.07
375 / 14.76
41
27.8
17.20
700
2
12V 2 OPzS 100
103
154.5
272 / 10.71
205 / 8.07
332 / 13.07
375 / 14.76
48.4
37
8.61
1400
2
12V 3 OPzS 150
150
198
380 / 14.96
205 / 8.07
332 / 13.07
375 / 14.76
68.7
52.2
6.09
2000
2