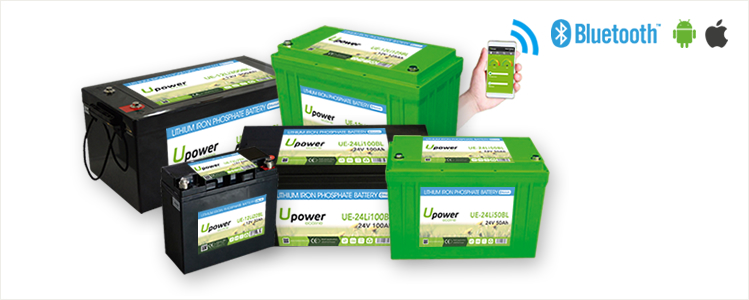 Power Your Adventures With LiFePO4 Batteries
The last thing you need when you're getting ready for a fishing trip, game of golf or road trip is a battery that doesn't power your application effectively. Lead acid batteries are increasingly losing trust among consumers who demand more efficient power from their battery.
LiFePO4 batteries are one of the most durable and reliable energy sources on the market. And, they're perfect for powering all of your adventures. Take the next step in green energy with rechargeable LiFePO4 batteries.
Upower Ecoline is the global LiFePO4 battery maker for all of your stored energy needs; manufactured to meet your specifications in their applications and services.

See the true applications and advantages of LiFePO4 batteries when you choose a lightweight, energy-efficient battery solution:
Electric Vehicles
Electric vehicles are not only used for recreation, but often provide a means of transportation. When you need to get to work or make an appointment, you don't have time to wait for your eBike's battery to charge.
Golf
You don't want to be stranded on the 14th hole with a golf cart and a dead battery. Unfortunately, your dated lead acid battery may not have the power to take you through an entire game of golf. Lead acid batteries lose capacity as they age. After two years of use, you may need a new battery to make it to the 18th hole and back. On the other hand, a rechargeable LiFePO4 battery delivers consistent power for years after your initial purchase. You save money on replacement costs, and you reduce wear and tear on your golf cart with lithium's lighter weight.
Marine
Rechargeable LiFePO4 batteries allow boaters to spend more time on the water. With a higher usable capacity, you're able to extend your fishing trip or travel the extra mile to reach that island you've always wanted to explore. Plus, lithium's lighter weight reduces your boat's draft, making it easier to navigate shallow waters. Instead of docking your heavy electric boat at the pier, power it right up to the shoreline.
Military
In critical situations, military vehicles need a reliable source of power that won't jeopardize a mission. LiFePO4 batteries deliver the same level of power throughout discharge, so you make it to your destination without slowing down.
Recreational vehicles
Whether you're traveling across the country in your RV or just enjoying a camping trip a few hours from home, you must have an efficient source of energy to power your lights and appliances. You may not have access to electricity for much of the time, so you need a long-lasting battery solution. Rechargeable LiFePO4 batteries won't leave you in the dark.
Mobility batteries
It's a scary experience when your electric wheelchair or scooter loses battery power while you're away from home, especially if you're on your own. A rechargeable LiFePO4 battery is the most reliable solution. With a higher usable capacity and more power than lead acid alternatives, you're able to reach your destination and then get home safely. Lithium's lighter weight also makes transporting your mobility application manageable. Without a heavy lead acid battery, it's easier for a friend or relative to lift your wheelchair into the back of a car and take it out when you're ready to go.
Powersports
Lightweight and rechargeable LiFePO4 batteries give your powersports vehicles a competitive advantage during races. By reducing your vehicle's drag, lithium allows you to accelerate more quickly at the starting line. Your "holeshot" is a vital moment during motorcycle or power boat races. A fast reaction on the starting line often makes the difference in winning your competition.
Proprietary custom packs
Whether you have engineered your own vehicle or own a product that needs a unique battery, custom battery packs are available for any LiFePO4 battery application. Consult an expert to design the perfect battery for your electric golf caddy, eBike, electric kayak and other products.
Solar
Storing solar energy is simpler with a rechargeable LiFePO4 battery. In a power outage, you have a backup source of energy to use for lights and appliances. Forget about driving to the gas station after a snowstorm or hurricane to buy fuel for your generator. You may also choose to avoid high home energy costs with your lithium power source. Store solar power while energy prices are low, and save money by switching to your lithium battery during peak hours.
UPS and Switchgear
Lithium is the most dependable choice when you need consistent voltage delivered to your uninterruptable power supply (UPS) and switchgear systems. Whether your systems are used to power computers, data centers or telecommunication equipment, you can't afford an unexpected battery failure. Rechargeable LiFePO4 batteries are more durable than lead acid alternatives. Due to electrolyte loss, lead sulfate deposits and shorting, there's a higher risk that your lead acid battery may fail, endangering your mission-critical systems. Lithium batteries charge far more quickly than lead acid alternatives and offer more hours of use. Whether you're riding around the city or along a suburban road, you can trust your battery to take you where you need to go.
Bluetooth Technology
Information provided by the APP
Voltage
Capacity
Charge or dischage
SOC
Independent
Temperature
Cycles
Message for Hi-temp, low power,
etc.
Events record
Company info
APP Video
User´s manual
Benefits
Significantly less weight
10x longer life span than lead acid
Green energy source with zero
emissions
Fully automatic built in battery
protection
99% efficient
Safe LiFePO4 technology
Standard BCI and DIN sizes
Greater energy density
Endless applications
Advantages
SAFETY


Every Upower Ecoline lithium battery utilizes LiFePO4 chemistry. LiFePO4 cell design includes various safeguards including high temp thermal fuse, flame retardant additive and pressure relief valves. Our cells meet UL, UN, CE and ROHS certifications.



LIFE SPAN


A Upower Ecoline lithium battery lasts 10x longer than a lead acid battery. The life span of a battery is typically measured in cycles. A Upower Ecoline lithium battery cycles 5,000 times at 100% DOD compared to a typical lead acid battery that cycles 500 times at 80% DOD.



RETURN ON INVESTMENT


Upower Ecoline lithium offers a significant advantage over lead acid when comparing total life-cycle costs. Lithium holds a clear advantage over lead acid in replacement cost plus the added benefit of significantly reduced charging expense.



GLOBAL REACH


Upower Ecoline has developed a strategic distribution network with lithium product available in distribution centers located on each continent. We have what you need when you want it!



CHARGING


Conveniently, Upower Ecoline lithium batteries are designed to work with typical AGM chargers. Since the LiFePO4 charging profile is very similar to AGM, most chargers and battery inverters will accommodate our battery.



CUSTOMIZATION


If our many standard sizes do not fit your application, our engineers can customize a solution to fit your needs.



HIGHEST QUALITY MANUFACTURING


Our ISO 9001 certified manufacturing process is continually reviewed and updated to deliver the best product quality in the marketplace.



APPLICATIONS


Some of Upower Ecoline's endless applications include marine, solar, golf, electric vehicles, RV, security, proprietary custom packs, UPS & switchgear, and military.
Specifications
UE-12V-BL Series
Model
Nominal
Voltage
(V)
Normal
Capacity
(Ah)
Maximum
Charge
Current
(A)
Dimensions
Weight
(Kg)
Data
Sheet
(PDF)
Length
(mm)
Width
(mm)
Height
(mm)
UE-12Li10BL
12
10
10
135
40
140
1.3
UE-12Li20BL
12
20
20
181
76
165
3.0
UE-12Li22BL
12
22
15
165
76
181
3.0
UE-12Li25BL
12
25
25
116
100
200
3.0
UE-12Li30BL
12
30
40
196
165
174
5.3
UE-12Li40BL
12
40
40
196
165
175
6.0
UE-12Li50BL
12
50
50
196
165
174
6.5
UE-12Li60BL
12
60
50
260
167.5
211
8.5
UE-12Li75BL
12
75
50
260
168
213
9.8
UE-12Li80BL
12
80
80
318
165
215
12.3
UE-12Li100BL
12
100
80
327
171
234
12.8
UE-12Li125BL
12
125
80
318
165
215
15.0
UE-12Li150BL
12
150
80
483.5
170
241
19.8
UE-12Li200BL
12
200
80
483.5
170
241
24.5
UE-12Li250BL
12
250
80
520
269
220
32.2
UE-12Li300BL
12
300
80
520
269
220
37.7
UE-24V-BL Series
Model
Nominal
Voltage
(V)
Normal
Capacity
(Ah)
Maximum
Charge
Current
(A)
Dimensions
Weight
(Kg)
Data
Sheet
(PDF)
Length
(mm)
Width
(mm)
Height
(mm)
UE-24Li10BL
24
10
10
150
68
135
2.6
UE-24Li12BL
24
12
10
150
68
135
3.0
UE-24Li20BL
24
20
20
196
165
175
6.5
UE-24Li25BL
24
25
25
196
165
175
6.5
UE-24Li50BL
24
50
40
330
172
216
12.8
UE-24Li75BL
24
75
60
520
269
221
37.7
UE-24Li100BL
24
100
80
483.5
170
241
24.5
UE-24Li125BL
24
125
80
520
269
220
35.0
UE-24Li150BL
24
150
80
520
269
220
35.0
UE-24Li200BL
24
200
100
605
490
155
60.6
UE-24Li300BL
24
300
100
602
530
202
85.0
UE-36V-BL Series
Model
Nominal
Voltage
(V)
Normal
Capacity
(Ah)
Maximum
Charge
Current
(A)
Dimensions
Weight
(Kg)
Data
Sheet
(PDF)
Length
(mm)
Width
(mm)
Height
(mm)
UE-36Li12BL
36
12
12
262
56
138
4.5
UE-36Li25BL
36
25
25
318
165
215
10.0
UE-36Li60BL
36
60
60
520
268
222
24.6
UE-36Li80BL
36
80
80
520
268
222
31.6
UE-36Li100BL
36
100
100
520
268
222
37.3
UE-48V-BL Series
Model
Nominal
Voltage
(V)
Normal
Capacity
(Ah)
Maximum
Charge
Current
(A)
Dimensions
Weight
(Kg)
Data
Sheet
(PDF)
Length
(mm)
Width
(mm)
Height
(mm)
UE-48Li20BL
48
20
30
482
236
88.5
12.0
UE-48Li25BL
48
25
25
318
165
215
12.2
UE-48Li50BL
48
50
50
425
482
133.2
30.5
UE-48Li60BL
48
60
50
490
329
215
36.6
UE-48Li75BL
48
75
60
520
269
221
37.7
UE-48Li80BL
48
80
50
570
329
215
43.5
UE-48Li100BL
48
100
50
482
220.5
520
57.5
UE-48Li150BL
48
150
60
432.6
430
310.3
78.0
UE-48Li200BL
48
200
100
552
400
400
125.0
UE-48Li300BL
48
300
150
721
403
431.5
200.0
UE-48Li400BL
48
400
250
721
403
551.5
228.0
UE-48Li600BL
48
600
300
600
800
1833
470.0