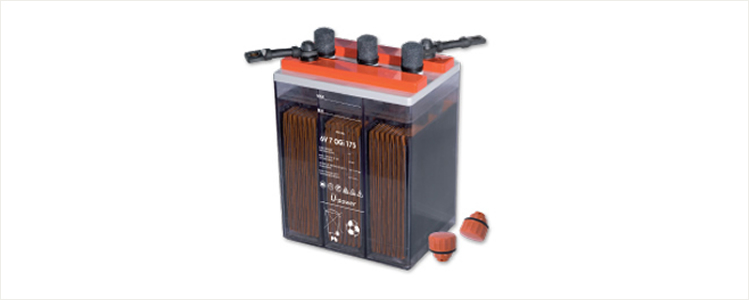 OG
i
Design life
15 years at 20°C.
Water refilling
More than 3 years at 20°C.
IIEC 896-1
1000 cycles.
Self discharge
Approx. 3% per month at 20°C.
Operating temperature range
-20°C to 55°C, recommended 10°C to 30°C.
Full conformity with
DIN 40736-1, IIEC 896-1 & VDE 0510-2.
Main uses
Line control centers.
Signaling systems.
Lighting systems.
Cold-start of diesel generators
of electricity.
Emergency lighting.
etc ...
Specifications
Model
Capacity Ah 1.80
UPC 20ºC
Length
(mm/inch)
Width
(mm/inch)
Height
(mm/inch)
Weight
IR mΩ
Short Circuit
Current (A)
Data Sheet
(PDF)
C10
C5
C3
C1
Wet
(kg)
Dry
(kg)

000

12V 1 OGi 25
29
25,5
22,5
16,8
272 / 10.71
205 / 8.07
392 / 15.43
33
22
16,79
0,72

010

12V 2 OGi 50
55
49,5
44,7
32,8
272 / 10.71
205 / 8.07
392 / 15.43
41
30,1
8,81
1,14

011

12V 3 OGi 75
80
74,5
67,5
49,6
272 / 10.71
205 / 8.07
392 / 15.43
49
38,2
5,94
2,11

012

12V 4 OGi 100
105
98,5
89,4
65,7
272 / 10.71
205 / 8.07
392 / 15.43
58
47,3
4,46
2,81

013

12V 5 OGi 125
135
123
111,3
81,6
380 / 14.96
205 / 8.07
392 / 15.43
78
62,3
3,57
3,52

014

12V 2 OGi 150
165
148,5
133,8
98,2
380 / 14.96
205 / 8.07
392 / 15.43
86
70,5
2,97
4,22

015

6V 7 OGi 175
187
167,3
151,3
110,7
272 / 10.71
205 / 8.07
392 / 15.43
49
37,7
1,27
4,93

016

6V 8 OGi 200
228
197,5
178,8
130
272 / 10.71
205 / 8.07
392 / 15.43
53
41,9
1,11
5,63

017

6V 10 OGi 225
254
221,5
200,7
145,8
380 / 14.96
205 / 8.07
392 / 15.43
68
51,.6
0,99
6,36

018

6V 11 OGi 250
270
247
223,5
161,7
380 / 14.96
205 / 8.07
392 / 15.43
72
55,7
0,89
7,04

019

6V 11 OGi 275
304
271,5
245,1
177,6
380 / 14.96
205 / 8.07
392 / 15.43
75
58,8
0,81
7,78

020

6V 12 OGi 300
320
296
268,2
194,4
380 / 14.96
205 / 8.07
392 / 15.43
79
63
0,74
8,44

021

2V 3 OGi 75
80
74,5
67,5
49,6
103 / 4.06
206 / 8.11
420 / 16.54
23,8
9,1
0,99
2,11

022

2V 4 OGi 100
105
98,5
89,4
65,7
103 / 4.06
206 / 8.11
420 / 16.54
14,5
10
0,74
2,81

023

2V 5 OGi 125
135
123
111,3
81,6
103 / 4.06
206 / 8.11
420 / 16.54
15,2
10,9
0,60
3,52

024

2V 6 OGi 150
165
148,5
133,8
98,2
103 / 4.06
206 / 8.11
420 / 16.54
15,9
11,8
0,50
4,22

025

2V 7 OGi 175
187
167,3
151,3
110,7
103 / 4.06
206 / 8.11
420 / 16.54
16,5
12,6
0,42
4,93

026

2V 8 OGi 200
228
197,5
178,8
130
103 / 4.06
206 / 8.11
420 / 16.54
17,1
13,4
0,37
5,63

027

2V 9 OGi 225
254
221,5
200,7
145,8
103 / 4.06
206 / 8.11
420 / 16.54
17,7
14,2
0,33
6,36

028

2V 10 OGi 250
270
247
223,5
161,7
126 / 4.96
206 / 8.11
420 / 16.54
20,5
14,3
0,30
7,04

029

2V 11 OGi 275
304
271,5
245,1
177,6
145 / 5.71
206 / 8.11
420 / 16.54
23,3
16,1
0,27
7,78

030

2V 12 OGi 300
320
296
268,2
194,4
145 / 5.71
206 / 8.11
420 / 16.54
24,5
17,5
0,25
8,44

031

2V 24 OGi 600
684
592,5
536,4
390
205 / 8.07
272 / 10.71
392 / 15.43
53
41,9
0,13
16,42

032

2V 30 OGi 750
810
741
670,5
485,1
205 / 8.07
380 / 14.96
392 / 15.43
72
55,7
0,10
21,89

033

2V 36 OGi 900
960
888
804,6
583,2
205 / 8.07
380 / 14.96
392 / 15.43
79
63
0,08
24,63