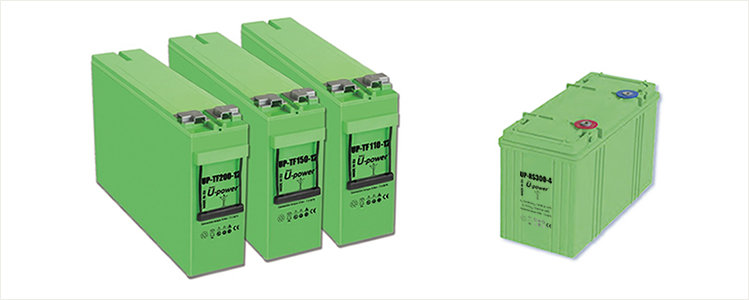 Telecommunications AGM
Longer design life
Front Access terminals for easier installation and increasing technical staff security during installation, commissioning and maintenance.
Excellent performance in standby use
Designed for 12 years of service life at 25°C and with oxidation resistant plates. Also available HT models (High Temperature) with 12 years of service life at 35°C, see table below.
Main uses
Telecommunications systems.
Microwave stations.
Mobile stations.
Data centers.
UPS.
etc ...
Specifications
Model
Nominal
Voltaje (V)
Capacity
(10H)
Length
(mm/inch)
Width
(mm/inch)
Height
(mm/inch)
Total Height
(mm/inch)
Weight
(kg)
IR
mΩ
Terminal
Data Sheet
(PDF)

000

UP-TF65-12
12
70
395 / 15.55
105 / 4.13
255 / 10.04
255 / 10.04
22.5
7.7
1+1 FA

010

UP-TF80-12
12
82
395 / 15.55
105 / 4.13
255 / 10.04
255 / 10.04
24.5
6.4
1+1 FA

011

UP-TF92-12
12
92
395 / 15.55
105 / 4.13
280 / 11.00
280 / 11.00
28.4
5.9
1+1 FA

012

UP-TF100-12
12
100
398 / 15.70
110 / 4.33
288 / 11.20
288 / 11.20
32.9
6.5
1+1 FA

013

UP-TF110-12
12
103
510 / 20.10
110 / 4.30
235 / 9.30
235 / 9.30
32.0
5.41
1+1 FA

014

UP-TF130-12
12
136
555 / 21.80
125 / 4.90
324 / 12.80
324 / 12.80
50.5
5.1
1+1 FA

015

UP-TF150-12
12
152
555 / 21.80
125 / 4.90
320 / 12.60
320 / 12.60
51.2
4.85
1+1 FA

016

UP-TFH150-12
12
152
555 / 21.80
125 / 4.90
320 / 12.60
320 / 12.60
52.8
4.85
1+1 FA

017

UP-TF150-12GPS
12
150
565 / 22.20
110 / 4.33
288 / 11.30
288 / 11.30
43.5
4.0
F9 (M8)

018

UP-TF155-12
12
152
555 / 21.80
125 / 4.90
280 / 11.00
280 / 11.00
50.5
4.42
1+1 FA

019

UP-TF180-12
12
180
555 / 21.80
125 / 4.90
320 / 12.60
320 / 12.60
57.3
4.03
1+1 FA

020

UP-TF200-12
12
190
555 / 21.80
125 / 4.90
320 / 12.60
320 / 12.60
59.2
3.95
1+1 FA

021

UP-R200-6
6
207
386 / 15.20
168 / 6.60
232 / 9.10
232 / 9.10
35.0
1.4
1+1 FA

022

UP-R300-4
4
311
386 / 15.20
168 / 6.60
232 / 9.10
232 / 9.10
36.0
0.81
1+1 FA

023

UP-R400-2
2
414
386 / 15.20
168 / 6.60
232 / 9.10
232 / 9.10
28.5
0.39
1+1 FA

024

UP-R500-2
2
518
386 / 15.20
168 / 6.60
232 / 9.10
232 / 9.10
32.0
0.35
1+1 FA

025

UP-RH500-2
2
466
386 / 15.20
168 / 6.60
232 / 9.10
232 / 9.10
32.0
0.35
1+1 FA

026

UP-R600-2
2
621
386 / 15.20
168 / 6.60
232 / 9.10
232 / 9.10
36.0
0.31
1+1 FA