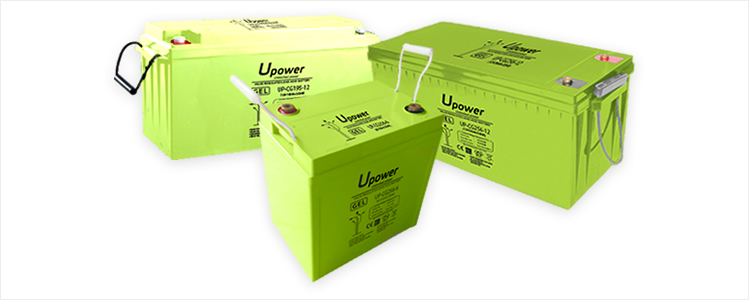 Carbon Gel
The carbon can greatly slow down the sulfate of negative plate due to the PSOC cycle application.
Excellent partial stage of charge (PSOC) cycle performance.
Excellent recharge acceptance performance, super fast charge / large discharge performance.
Excellent temperature tolerance, capacity increased 16% at -20°C.
Main uses
Renewable Energy System.
Hybrid Solar Power System.
Uninterrupted Power Supply
(UPS).
Communicartions and Electric
Equipment.
Emergency Lighting Equipment.
Fire Alarm and Security Systems.
Robots, Control Equipment, and
Factory Automation Equipment.
Emergency Power supply (EPS).
Various Power Toys.
Lighting Equipment.
etc ...
Specifications
Model
Nominal
Voltage (V)
Capacity
(20H)
Capacity
(100H)
Length
(mm/inch)
Width
(mm/inch)
Height
(mm/inch)
Weight
(kg)
Terminal
Data Sheet
(PDF)

000

UP-CG256-6
6
256
320
260 / 10.24
180 / 7.09
275 / 10.83
35
M8

011

UP-CG200-8
8
200
240
260 / 10.24
180 / 7.09
275 / 10.83
35
M8

012

UP-CG18-12
12
18
21
151 / 5.94
99 / 3.90
104 /4.09
4.2
F2

013

UP-CG30-12
12
30
35
181 / 7.13
76 / 2.99
170 / 6.69
6.8
T5

014

UP-CG45-12
12
45
55
195 / 7.68
130 / 5.12
180 / 7.09
11.6
M5

015

UP-CG55-12
12
55
65
197 / 7.76
165 / 6.50
175 / 6.89
15.3
M6

016

UP-CG80-12
12
100
121
260 / 10.24
166 / 6.54
216 / 8.50
21.5
M6

017

UP-CG85-12
12
85
105
350 / 13.78
166 / 6.54
179 / 7.05
22.0
M6

018

UP-CG100-12
12
100
125
260 / 10.24
166 / 6.54
216 / 8.50
26.0
M6

019

UP-CG120-12
12
120
150
331 / 13.03
171 / 6.73
214 / 8.43
31.5
M8

020

UP-CG150-12
12
150
185
406 / 15.98
174 / 6.85
216 / 8.50
37.7
M8

021

UP-CG170-12
12
170
215
341 / 13.43
173 / 6.81
281 / 11.06
46.0
M8

022

UP-CG200-12
12
200
240
485 / 19.09
172 / 6.77
240 / 9.45
46.0
M8

023

UP-CG256-12
12
256
320
522 / 20.55
238 / 9.37
223 / 8.78
64.0
M8