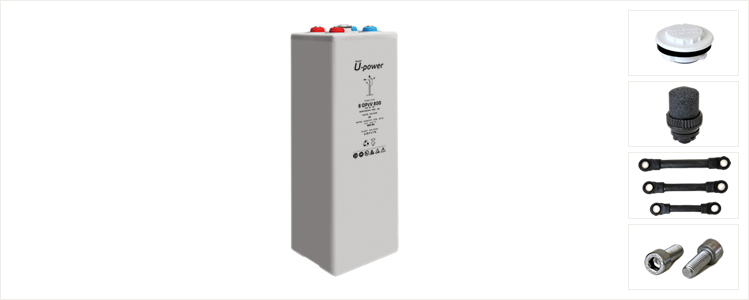 OP
z

V Block

Design life
More than 15 years at 20°C.
IIEC 896-1
1200 cycles.
Self discharge
Approx. 2% per month at 20°C.
Operating temperature range
-20°C to 55°C, recommended 10°C to 30°C.
Full conformity with
IIEC 896-1, IEC 60896-21 & EN 61427.
Main uses
Solar energy.
Telecommunications.
Traffic signaling systems.
Emergency lighting.
etc ...
Specifications
Model
Capacity Ah 1.80
UPC 20ºC
Length
(mm/inch)
Width
(mm/inch)
Height
(mm/inch)
Total Height
(mm/inch)
Weight
(kg)
Number of Plates (+) per Cell
Data Sheet
(PDF)
C10
C100
6V 4 OPzV 200
206
267.8
272 / 10.71
205 / 8.07
332 / 13.07
371 / 14.61
48
4
6V 5 OPzV 250
257
334.1
380 / 14.96
205 / 8.07
332 / 13.07
371 / 14.61
63
5
6V 6 OPzV 300
309
401.7
380 / 14.96
205 / 8.07
332 / 13.07
371 / 14.61
70
6
12V 1 OPzV 50
51
66.3
272 / 10.71
205 / 8.07
332 / 13.07
371 / 14.61
43
1
12V 2 OPzV 100
102
132.6
272 / 10.71
205 / 8.07
332 / 13.07
371 / 14.61
52
2
12V 3 OPzV 150
153
198.9
380 / 14.96
205 / 8.07
332 / 13.07
371 / 14.61
72
3
12V OPzV 200
200
260
521 / 20.50
268 / 10.60
220 / 8.66
225 / 8.86
69.5
6