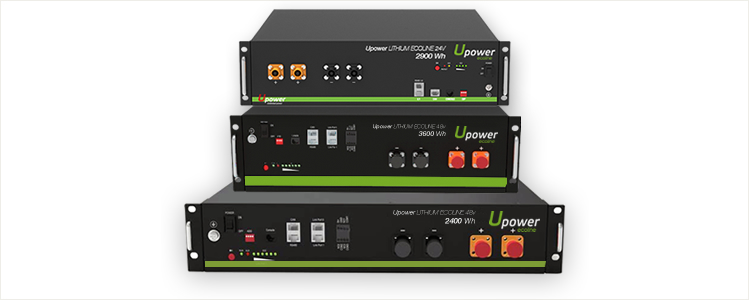 Features
With more than 1GWh products been commissioned in 30 countries, Upower Ecoline is proudly contributing our strength in changing the way people generating, transferring and using the energy.
UE-H series is an ideal solution for residential storage applications, with standard 48V/50AH specification, up to 90% usable capacity and 4,500 cycle-life warranty.
Deliver up to 5KW with single module (2.4KWh).
Safety Cert.TüV CE UN38.3.
Advantages
LFP cell inside enable longest life
and highest safety
Self-designed BMS protects
the cell in abnormal temperature,
current, voltage, SoC, SoH
Vertical industry integration
ensures more than 6000 cycles
with 90% DoD
Modular design gives the end
customers the power of choice
of capacity
Compatible with most of the
available Hybrid inverters
Simple buckle fixing minimize the
installation time and cost
Specifications
Model
Nominal
Voltage
(V)
Nomimal
Capacity
(Wh)
Maximum
Charge
Current
(A)
Dimensions
Weight
(Kg)
Data
Sheet
(PDF)
Product
Manual
(PDF)
Length
(mm)
Width
(mm)
Height
(mm)
UE-24Li2900WH
24
2900
85
442
420
120
26.5
UE-48Li2400WH
48
2400
50
440
410
88.5
24.0
UE-48Li3600WH
48
3552
74
442
420
132
31.0