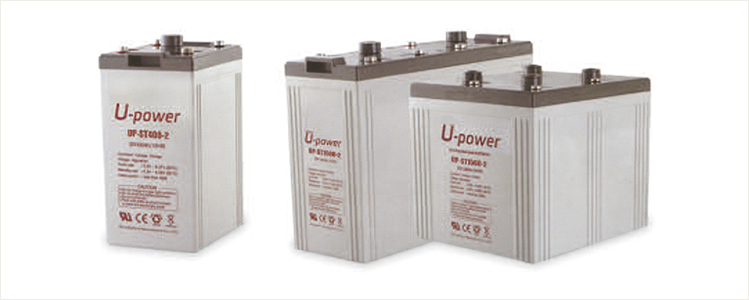 2V Stationary AGM
Longer design life
Improving plates absorption, with an studied construction and using high quality raw materials, we get a battery with a longer design life, higher and more efficient gas recombination of 99% and a lower self-discharge.
Main uses
Golf trolleys y buggies.
Wheelchairs.
Electric vehicles.
Electric tools.
Electric / electronic toys.
Solar energy.
etc ...
Specifications
Model
Nominal
Voltaje (V)
Capacity
(20H)
Capacity
(10H)
Length
(mm/inch)
Width
(mm/inch)
Height
(mm/inch)
Total Height
(mm/inch)
Weight
(kg)
Terminal
Data Sheet
(PDF)

000

UP-ST100-2
2
105.0
100.0
170 / 6.69
71 / 2.83
205 / 8.07
212 / 8.35
6.0
T6

010

UP-ST150-2
2
157.6
150.0
170 / 6.69
98 / 3.86
205 / 8.07
212 / 8.35
8.5
T7

011

UP-ST200-2
2
212.0
200.0
170 / 6.69
106 / 4.17
330 / 12.99
367 / 14.45
13.0
T11

012

UP-ST250-2
2
262.0
250.0
170 / 6.69
110 / 4.33
328 / 12.91
350 / 13.78
14.0
T11

013

UP-ST300-2
2
318.0
300.0
171 / 6.73
151 / 5.94
330 / 12.99
365/ 14.37
18.5
T11

014

UP-ST350-2
2
368.0
350.0
170 / 6.69
150 / 5.91
328 / 12.91
350 / 13.78
19.0
T11

015

UP-ST400-2
2
420.0
400.0
210 / 8.27
175 / 6.89
330 / 12.99
350 / 13.78
24.3
T11

016

UP-ST450-2
2
472.0
450.0
210 / 8.27
175 / 6.89
330 / 12.99
350 / 13.78
27.0
T11

017

UP-ST500-2
2
530.0
500.0
241 / 9.49
171 / 6.73
329 / 12.95
365/ 14.37
31.0
T11

018

UP-ST600-2
2
630.0
600.0
300 / 11.81
175 / 6.89
330 / 12.99
350 / 13.78
35.5
T11

019

UP-ST800-2
2
840.0
800.0
410 / 16.14
175 / 6.89
330 / 12.99
350 / 13.78
50.1
T11

020

UP-ST1000-2
2
1050.0
1000.0
475 / 18.70
175 / 6.89
328 / 12.91
350 / 13.78
57.0
T11

021

UP-ST1200-2
2
1260.0
1200.0
475 / 18.70
175 / 6.89
328 / 12.91
350 / 13.78
63.7
T11

022

UP-ST1500-2
2
1575.0
1500.0
403 / 15.87
354 / 13.94
339 / 13.35
349 / 13.74
94.0
T11

023

UP-ST2000-2
2
2100.0
2000.0
490 / 19.29
350 / 13.78
339 / 13.35
349 / 13.74
119.0
T11

024

UP-ST2500-2
2
2626.0
2500.0
490 / 19.29
350 / 13.78
339 / 13.35
349 / 13.74
132.0
T11

025

UP-ST3000-2
2
3150.0
3000.0
709 / 27.91
350 / 13.78
337 / 13.27
347 / 13.66
181.0
T11