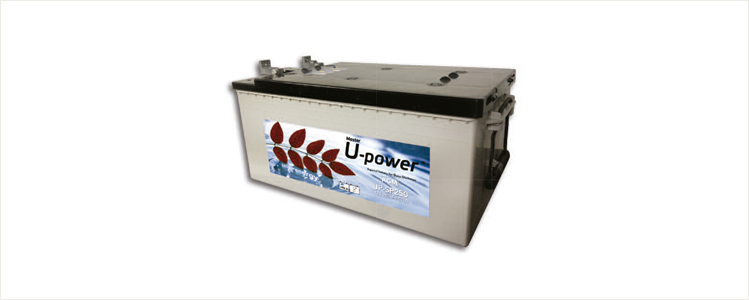 Solar Power AGM
AGM Technology with absorbed electrolyte.
Minimum self-discharge ratio.
SMF (Sealed Maintenance Free).
Recommended for indoor uses.
Suitable for renewable energy, cyclic, starting power.
Great D.O.D. performance.
High reliability.
More than 500 cycles at 75% D.O.D.
More than 1000 cycles as per IEC 61427.
Main uses
Solar and wind energy systems.
Mobile homes.
Medium size industrial solar
systems.
Street solar lighting.
Vessels.
etc ...
Specifications
Model
Voltaje
Nominal (V)
Capacity Ah 1.80
UPC 20ºC
Length
(mm/inch)
Width
(mm/inch)
Height
(mm/inch)
Weight
(kg)
QTy x P
Data Sheet
(PDF)
C10
C100
UP-SP67
12
54
65
242 / 9.53
175 / 6.89
190 / 7.48
17,8
63
UP-SP83X
12
63
80
278 / 10.94
175 / 6.89
190 / 7.48
21
57
UP-SP83
12
80
85
308 / 12.13
175 / 6.89
210 / 8.27
26,7
42
UP-SP90
12
83
90
353 / 13.90
175 / 6.89
190 / 7.48
26,7
36
UP-SP100
12
85
100
345 / 13.58
175 / 6.89
230 / 9.06
28,3
36
UP-SP160
12
130
160
513 / 20.20
189 / 7.44
223 / 8.78
39,1
24
UP-SP190
12
150
190
513 / 20.20
223 / 8.78
223 / 8.78
46,3
21
UP-SP220
12
185
220
518 / 20.39
274 / 10.79
242 / 9.53
54,5
18
UP-SP250
12
200
250
518 / 20.39
274 / 10.79
242 / 9.53
59,5
18