UE-24L
i

42 Series - Dinamic Balance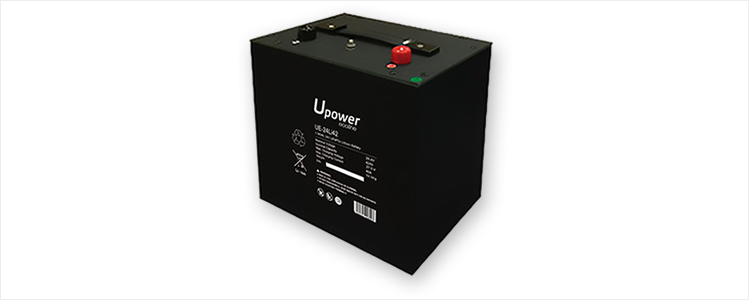 24L
i

42 - Dinamic Balance

Compared to lead-acid or AGM batteries, the LiFePO4 battery offers a considerably longer backup time, a faster charge, a longer lifecycle and a compact size.

The most valuable feature is that the UE-24Li42 can be connected in parallel or in series freely, without external BMS, highly flexible in run time expansion.

With its price + performance + reliability + flexibility, UE-24Li42 is the best battery solution for your energy management in UPS and inverters.
Features
Long lifecycle > 4000
Built-in automatic dynamic
cell-balance system
Easy installation in serial or
parallel connection as VRLA
battery
Compact size and light weight
3-year warranty
Specifications
Voltage & Capacity
Cycle Life
Discharge
Nominal Voltage
(V)
Nominal
Capacity @ 25°C
(Ah)
Nominal
Energy @ 25°C
(Wh)
Battery
Cycle
Life
Maximum Continuous Discharging Current
(A)
Maximum 5s Pulse Current
(A)
Cut-off Voltage
(V)
Operating Temperature
(Surface)
Operating
Humidity
26.4
42
1100
> 2500 [1C, 100% DoD]
> 4000 [1C, 60% DoD]
70
120
22
0 ~ 60°C
0 ~ 85%
Relative Humidity
Charge
Physical
Data Sheet
(PDF)
Charging
Voltage
(V)
Maximum Continuous
Charging Current
(A)
External Max.
Charging Voltage
(V)
Operating Temperature
Operating
Humidity
Dimension, D X W X H
(mm)
Net
Weight
(Kg)
27.2
40 (1C)
27.5
0 ~ 45°C
0 ~ 85%
Relative Humidity
170 x 260 x 263
14.5